Cold Fusion Hair Extensions
Cold fusion is a new method, and is meant to be gentle for the hair. This method uses a keratin-based polymer to attach extensions to the root. As this method uses no heat, it is good for fine or thin hair. The polymer offers more flexibility than hot-glue, and results in more natural-feeling hair. For cold fusion hair extensions, many hairdressers use SoCap extensions and a clear bond. These extensions can last up to six months.

Cold Fusion bonding uses ultrasound waves that are transformed into mechanical energy. The vibration caused by the ultrasound energy is directed only to the area where the 100% keratin tip of the extension meets the client's natural hair. This vibration crystallizes the bond, forming a strong, invisible and long-lasting hold. This occurs without using any heat, which can cause damage to the hair or a weaker and more visible bond.

The earlier hot fusion method, requires a special heated tool known as a hot fusion connector to melt the bond into the hair for it to adhere securely. The tool will not allow for extension to be added near the scalp due to the heat. With cold fusion, however, the bond is attached with a polymer that isn't affected be heat. Cold fusion will allow for addition of extensions in the front of the head. With cold fusion, you can wash and style your hair as you normally would.

Other benefits include adding more volume to thinning hair. Women experiencing alopecia can now have hair extensions bonded directly to their fragile and thinning hair, effectively filling out scalp with beautiful real hair. In addition, topical hair re-growth solutions such as minoxidil can still be applied without concern.

One especially wonderful benefit of this new cold fusion technology due to its ability to bond very close to the scalp, is helping chemotherapy patients feel like themselves again, while looking more normal. Hair extensions can be bonded to the short and newly re-growing hair of people who have undergone chemotherapy, giving them a full head of real hair without the use of uncomfortable and noticeable wigs.
x10D Cold Fusion Removal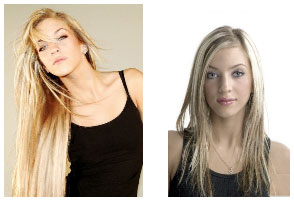 The X10D Cold Fusion Hair Extension System is a revolutionary way to add length and volume to hair using non-surgicalskin grafting. These extensions do not created cross links, are faster to put on and they are more aesthetically pleasing.
With X10D, no weaving or heating is required to secure hair to the scalp. Human cuticle hair from India is grafted into a skin-like plastic. This plastic is then stuck to the scalp with cold fusion glue. It takes on the color of the scalp and the hair is grafted on non-surgically.
X10D cold fusion extensions can be applied quickly, look like they are growing directly from the scalpm and fall like natural hair. Because the hair in X10D extensions is grafted straight from the cuticle, the hair is tangle free, and more resistant to damage. The extensions last about six months, and can be easily removed by dissolving the bond using a solvent.
Cold Fusion Removal
Cold fusion hair extensions can easily be removed by dissolving the bond using depolymerizing lotion.
Cold Fusion Hair Extension Cost, Prices
Cold fusion hair extension aren't cheap. They can run from $250 to $1,500. However, they do last from about four months to six months.
See also eyelash extensions...