Eyelash Extensions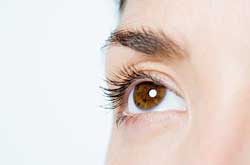 Eyelash extensions are the latest beauty trend. Unlike traditional false eyelashes that are applied on a strip, synthetic eyelash extensions are glued to individual natural lashes with tweezers.

Fashionistas such as Paris Hilton, Lindsay Lohan and Jennifer Lopez helped start the trend by flashing their lash extensions on the red carpet. J. Lo's are reportedly made of mink while Madonna's are studded with diamonds.

Women who get eyelash extensions no longer have to use mascara. The lashes are fairly durable, too. You can work out, swim or go to the beach without worrying about ruining your lashes or having your mascara run.

Extensions are individual lash-like fibres attached millimetres above your eyelashes, where you'd usually apply eyeliner. Experts say they're becoming more popular because, in most cultures, long lashes are a sign of femininity. Lashes also open up the eyes, and make women look and feel years younger. Eyelash extensions give the face a fresh appearance. When applied by an expert, the effect is subtle. The extensions can be trimmed to achieve a natural look. Full, long lashes help to round the eyes. Individual lashes - which are usually applied on the outer eye area - give a glamorous look and add instant drama to any face.

Eyelash extensions come in soft black and dark brown for a natural look, all the way through to the more colourful blues, purples, greens and golds for special occasions. Colours can be chosen to match your eye shadow.

The extensions typically last three weeks to three months, but can fall out within days. You can even shower or go swimming in them. If you're left with holes or patches, you can get touch-ups. And if you want them removed, it is recommended that you go back to your salon.
How it's done.
First of all, tape or a pad protects and holds down your bottom lashes to make sure they don't glue your top and bottom lashes together. Your eyes are closed the whole time as a technician takes one lash extension and glues it onto your lash, one at a time to each existing eyelash depending on how many you have. Lash extensions are rarely attached to the bottom lashes because they would make your eyes difficult to close.
Eyelash Extension Cost, Prices
Cost for the initial application ranges from $100 to $500. Lash lengths range from 6 millimeters to 16 millimeters. The procedure can take up to two hours and the extensions last between four to six weeks or more.
Once extensions are in place, you can return for touch-ups when the glue wears off. Touch-ups cost anywhere from $20 to $75.
Choosing an eyelash extension specialist.
Anyone can apply extensions so it's a good idea to ask whether the professional is a certified aesthetician or cosmetologist. The procedure is not painful. If the tweezers poke your eyes, get out. The Food and Drug Administration does not regulate the glue used in the procedure. Ask if the glue is hypoallergenic or odorless because some might be too strong and can burn your eyes if it doesn't dry quickly.